---
---
---
Guide Sections:
---
Why is a Site Safety Assessment important?
---
Every worker is entitled to a safe workplace!
The law states that a site safety assessment must be conducted prior to work commencing. Failure to comply with the law may result in injuries to workers.
Site safety is important at each and every job, each and every day. As jobsite conditions change, it is critical to be aware that safety must be assessed on a continual basis.
Safety in the workplace saves lives - safety in the workplace is the law.

Site safety assessment is the
first priority

when you arrive at any worksite.

All people on site, not just those doing the actual work, must be made aware of any situation that could cause them physical harm.
Before any work begins, a site safety assessment must be conducted by a trained person. The results of the safety assessment must be documented on the Site Safety Assessment (SSA) form.
The SSA Form helps the user to:
Identify jobsite hazards.
Assess the risks.
Classify the hazards.
Record the actions required.
Correct each hazard by assigning responsibility.
Communicate with all workers and visitors.
Document your decisions and actions.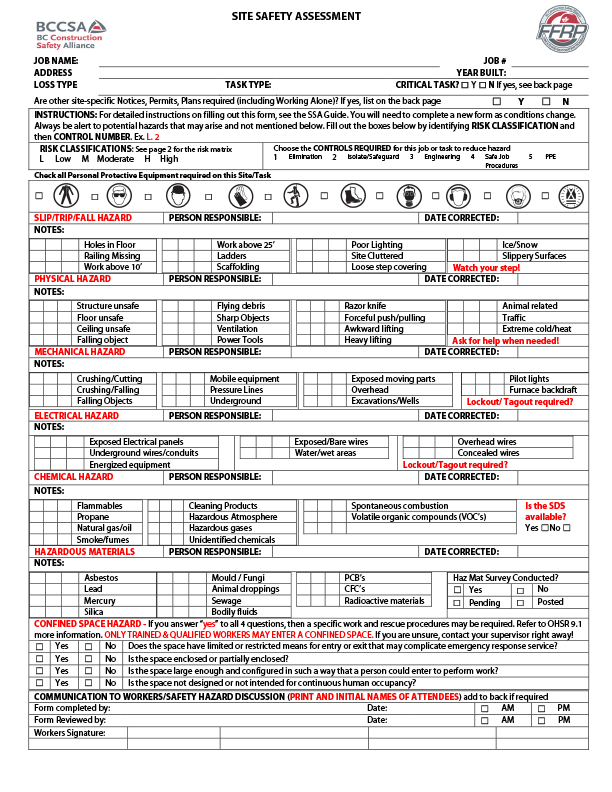 Site Safety Assessment (SSA) Form